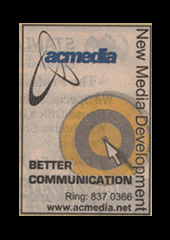 I was there at the company with Suresh for our Industrial Training from 2nd week of Oktober 2000 until early January 2001. I really have to thank each and every staffs working there for being patient and kind enough to teach and to guide us for the whole period of our industrial training. THANK YOU...
Acmedia (S) Pte Ltd
62A Prinsep St, Singapore 188660
Tel: 8370366
Fax: 8370367
www.acmedia.net info@acmedia.net
Basically the company deals with Multimedia and currently 90 % on web and it's development.